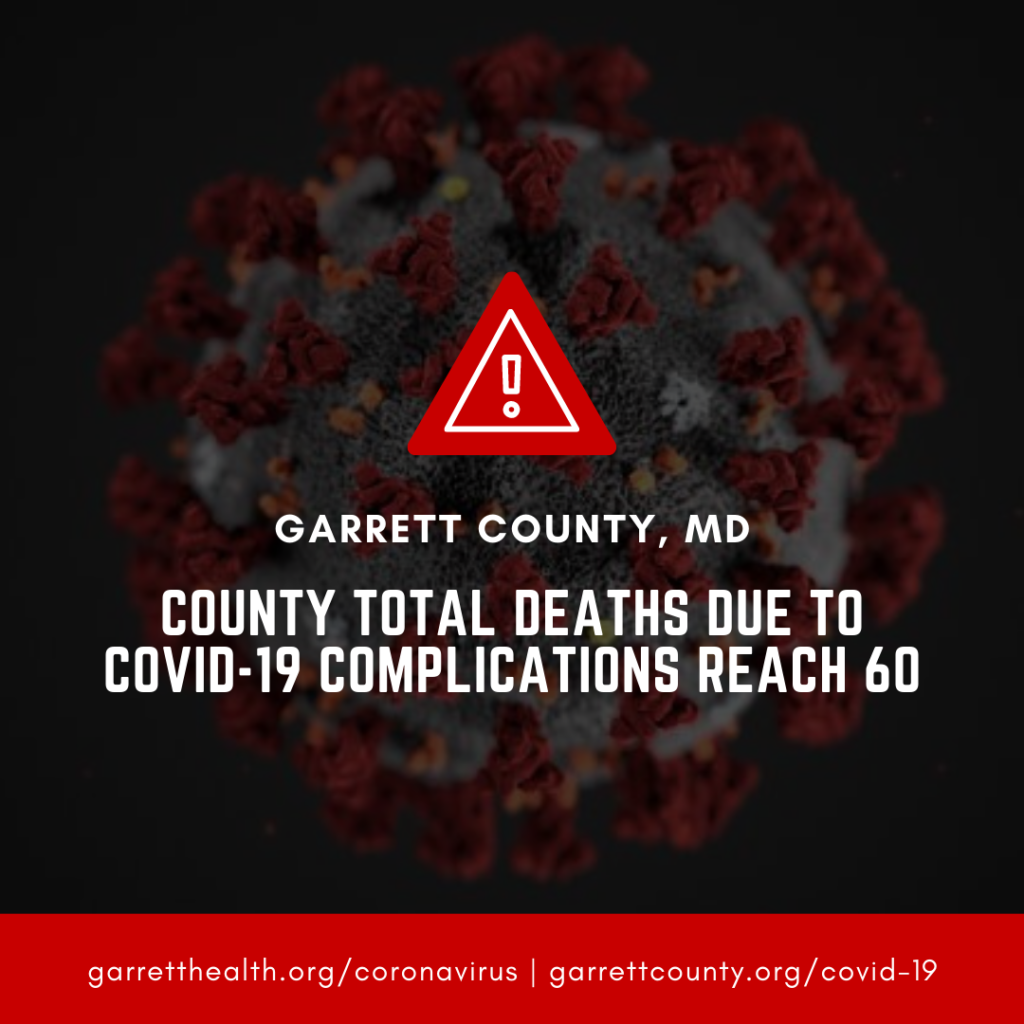 By Garrett County Joint Information Center Team
 
Sadly, the Health Department has been notified of additional deaths due to COVID-19 complications this week, bringing the total county deaths to 60 persons.
 
While Garrett County's case rate has been low for several weeks, health officials continue to remind everyone how important it is to remain vigilant in protecting the communities most vulnerable members by wearing face coverings, social distancing and avoiding large gatherings.
 
"Each death from COVID-19 complications is sad, and we offer condolences to their loved ones," said Garrett County Health Officer Bob Stephens. "The age range for deaths in Garrett County is from 18 to 102, with the average age being 81. Our vaccine efforts continue to prioritize senior citizens who are 65 years and older, and we hope to offer appointments to additional community members for their first doses in the next week."
 
When clinics are opened up for mid-March and beyond, the link will be available on the garretthealth.org website, and will be announced on the Health Department's social media and local news venues.
 
Today's county information includes:
● A 7-day case rate of 2.46 per 100,000 Garrett County residents, which is the lowest in the state, and well below Maryland's case rate of 12.78
● A 7-day positivity rate of 1.97%, which is the second lowest in the state (Kent County is at 1.39), and about half to Maryland's rate of 3.9%
● A total of 1,836 COVID-19 cases
● 16.3% of county residents have received a COVID-19 vaccination and 6.97% have received their second doses compared to the state rates of 12.36% for first and 6.05% for second
 
Up-to-date county COVID-19 data and other information is available on garretthealth.org. For all other COVID-19 related questions, or to report a COVID-19 compliance issue, call the local COVID-19 Hotline number at 301-334-7698.  
Support West Virginia News Hunters
Register for a FREE account to unlock all of the press releases collected on this site. Our team spends hours hunting down the latest stories from the WV area, and we appreciate every user who connects with us!
Login if you have purchased