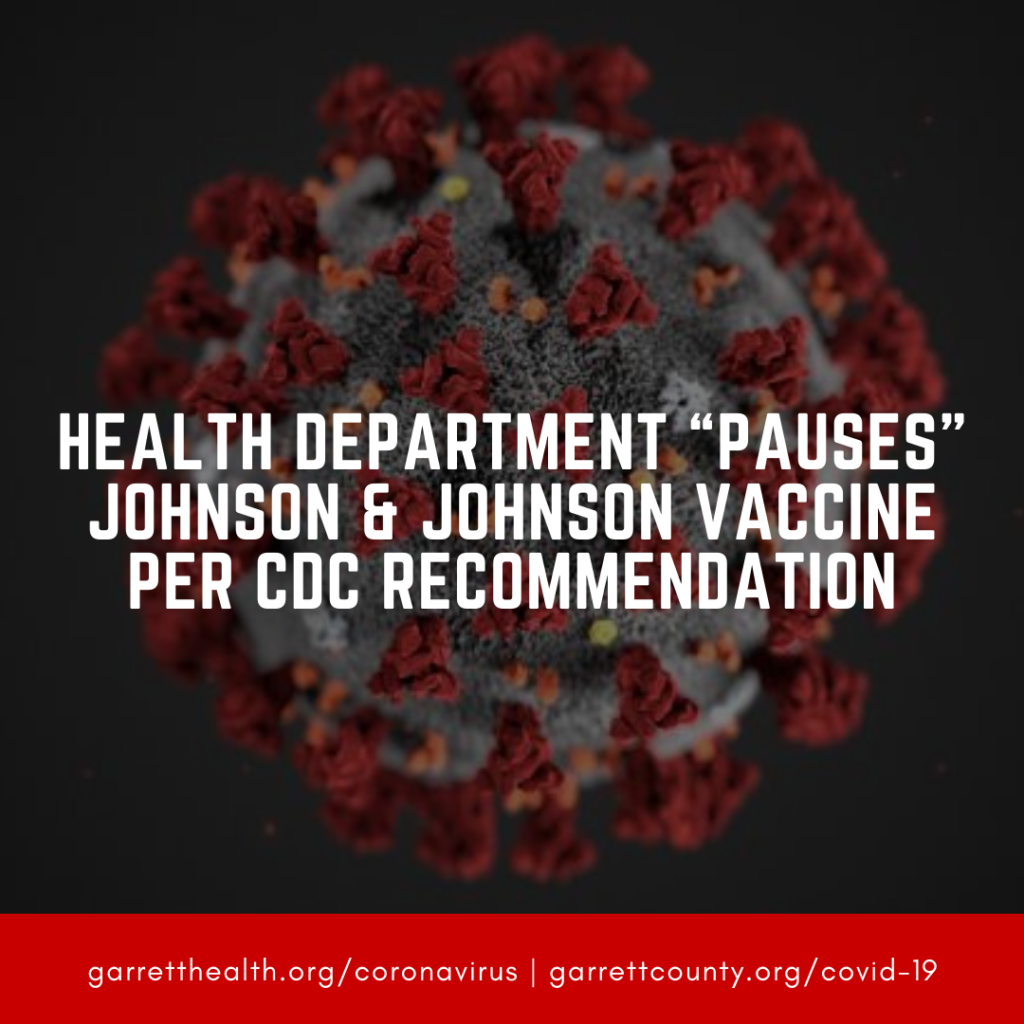 By Garrett County Joint Information Center Team
 
Federal health agencies have called for a pause in the use of the Johnson & Johnson (Janssen) COVID-19 vaccine effective Tuesday, April 13, to investigate rare reports of blood clots occurring within approximately two weeks of vaccination. 
 
So far, six cases of serious blood clots have been reported among the 6.8 million people who have received the J&J vaccine, so it is a rare occurrence but still warrants further study.  The investigation will analyze whether these events have occurred at a rate higher than would be expected in the general population who did not receive the J&J vaccine. The vaccine effectively protects against COVID-19, a virus that has resulted in the deaths of over 500,000 people in the USA alone.
 
Persons who are scheduled to receive a Johnson & Johnson vaccine at a Garrett County Health Department clinic this week will be contacted by the Health Department before their scheduled time. Participants can choose to cancel their appointment, or to keep their appointment and receive the Moderna vaccine instead.
 
"We will not cancel appointments for next week in hopes that the CDC and the Food and Drug Administration are able to evaluate the risk and offer clear guidance moving forward," said Garrett County Health Officer Bob Stephens. "Persons who have received the vaccine or who are hesitant to receive a vaccine can take comfort in the fact that the decision to 'pause' was based on six adverse reactions out of 6.8 million vaccines given."
 
"We will continue to monitor the situation and cancel or reschedule appointments as needed," Stephens added. The Moderna COVID-19 vaccination clinics will continue as planned. To schedule an appointment for the next available clinic, go to the Health Department website, https://garretthealth.org, or call the COVID-19 Hotline at 301-334-7698 for assistance.
 
People who have received the J&J vaccine who develop severe headache, abdominal pain, leg pain, or shortness of breath within three weeks after vaccination should contact their health care provider.
Support West Virginia News Hunters
Register for a FREE account to unlock all of the press releases collected on this site. Our team spends hours hunting down the latest stories from the WV area, and we appreciate every user who connects with us!
Login if you have purchased