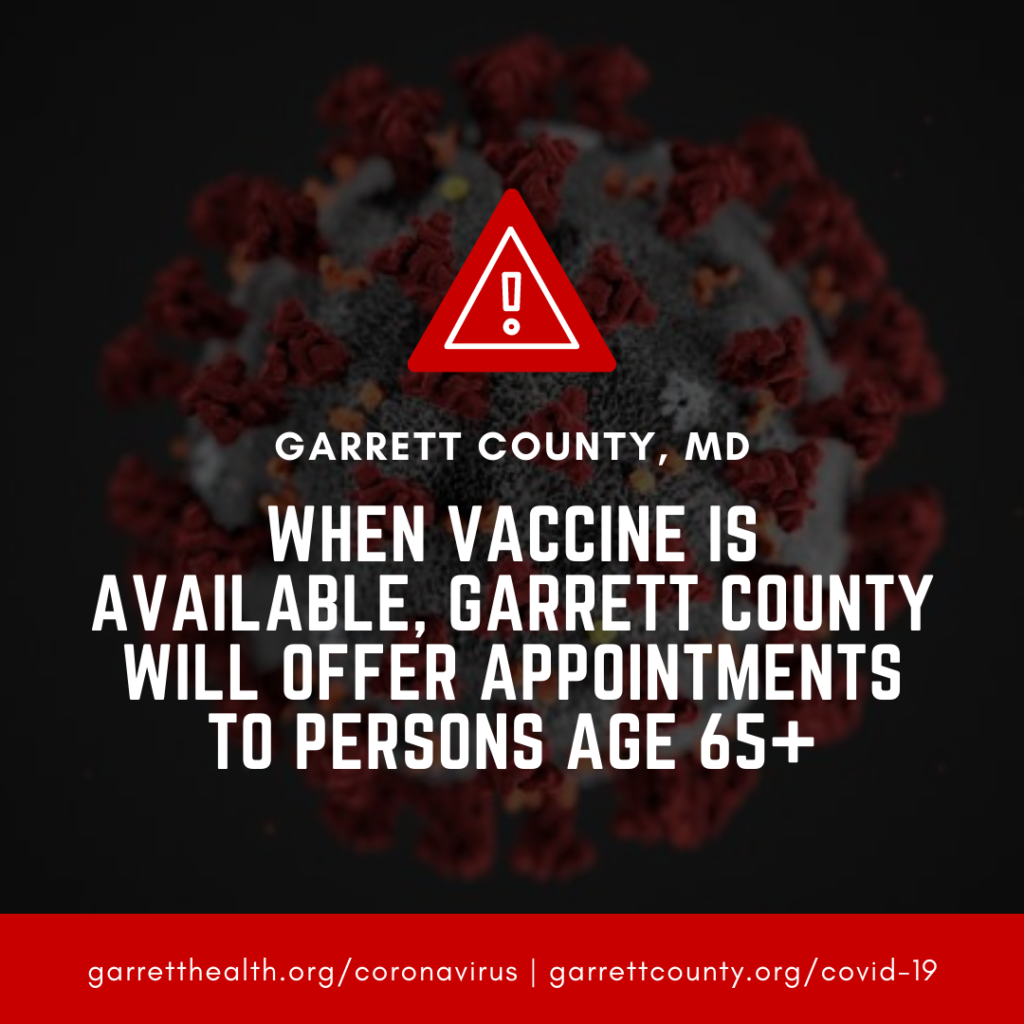 By Garrett County Joint Information Center Team
 
As soon as vaccine is available to open up more COVID-19 vaccine appointments, Garrett County Health Department will allow person age 65 through 74 to begin scheduling appointments. These are the only groups that will be eligible to schedule appointments from the Phase 1C group at this time.
 
Statistics show that the county has currently vaccinated 51% of residents who are age 75 and older, compared to the state rate of 24%.  Anyone in Phase 1A and 1B who has not yet be vaccinated will remain eligible when additional appointments are opened up. Phase 1B includes all individuals with developmental disabilities, with priority for those in congregate living situations.
 
The links will be available on Garrett County Health Department's website, garretthealth.org, for COVID-19 vaccine appointments whenever slots are available, and removed whenever the appointments are filled. Announcements will be made on the Health Department's website, Facebook page, and local news media when a new link is available for registration.
 
The website is the best way to schedule an appointment. However, when appointments are made available, persons who need assistance to register online may call the COVID-19 Hotline at 301-334-7698 for help.
 
Currently, many Phase 1A personnel are receiving second doses, and most Garrett County Public School and non-public school personnel who want to be vaccinated have received their first dose and are scheduled for their second one.
 
"Please remember to review the information that tells you which priority groups are eligible for appointments in Garrett County at that specific time," Stephens said. "Signing up for a clinic you do not qualify for creates issues for everyone. Your appointment will be canceled, you won't receive your vaccine, and we will need to schedule someone else in that slot who meets the qualifications."
 
The vaccine timeline released by the Health Department last week is available at garretthealth.org and on their Facebook Page. The timeline will be updated as the county progresses through the priority groups. The Health Department is not keeping a pre-registration list.
 
Additional information for Garrett County today includes:
• A vaccination rate of 11.2% of county residents for first doses of COVID-19 vaccine
• A 7-day case rate of 18.71 per 100,000 Garrett County residents, compared to Maryland's case rate of 29.53
• A 7-day positivity rate of 6.89%, compared to Maryland's rate of 5.61%
• A total of 1,798 COVID-19 cases
• A total of 57 deaths due to COVID-19 or its complications
Additional COVID-19 resources:
• If you have COVID-19 like symptoms, schedule a testing appointment at the Health Department by calling 301-334-7697.
• Free COVID-19 testing is available (with or without symptoms) on Tuesdays and Thursdays from 9 a.m. to 3 p.m., at the MEDCO Building in the McHenry Business Park. Pre-registration is recommended. Visit garretthealth.org for more information.
• For all other COVID-19 related questions, or to report a COVID-19 compliance issue, call the local COVID-19 Hotline number at 301-334-7698.
Support West Virginia News Hunters
Register for a FREE account to unlock all of the press releases collected on this site. Our team spends hours hunting down the latest stories from the WV area, and we appreciate every user who connects with us!
Login if you have purchased